Top Five Natural Digestive Supplements Comparison Report:
With fast food, second helpings, tasty junk food, and late night food commercials on television, you are inundated with food, food, food. It is a treat, a social event, comfort, and companionship. It even helps with the boring moments of life.
Well, it helps your mouth. Your digestive system is something else. Overworked, undernourished, and essential to good health, your digestive system needs a little help. If you suffer from gas pains or feel very bloated after a meal, your system needs a little help with the super digestive enzymes that help digest your food efficiently. Simply adding more fruits and vegetables to your diet may not be able to help detoxify your body.
The best method is to use a natural digestive supplement. What follows is an overview of the top five natural digestive supplement brands that are now available. In looking at the features, benefits, prices, and sources of these supplements, you will have a deeper understanding of what digestive supplements can do for you and why it is recommended that you choose a natural supplement that meets your needs.
It goes without saying however, that you should always exercise caution when you review these products and double check via online reviews or by asking your physician, so that you will be able to make the best possible buying decision that is right for you.
Top Five Natural Digestive Supplement Brands
These products are presented in alphabetical order.
Align Digestive Care
Align Probiotics require one capsule daily and boast uniqueness in containing Bifantis, their patented name for Bifidobacterium infantis 35624. Bifidobacterium is a natural probiotic strain that the Align scientists modified for use in their supplement.
This probiotic is the special ingredient. Probiotics are known as friendly bacteria and their role is to replace the healthy probiotics your intestines need to function. Poor nutrition leads to health issues that people try to fix with antacids. All that really happens is that your gastrointestinal tract becomes toxic.
Probiotics reset the balance of your digestive tract. Other ingredients are microcrystalline cellulose, sugar , magnesium stearate , milk protein, titanium dioxide, sodium citrate dihydrate , propyl gallate , fd&c blue #1, and riboflavin. It is all contained in a vegetarian capsule shell.
Approximate price: 28 capsules $30
Available in stores and online
Bromalite
Bromalite is a powdered dietary supplement. It removes parasites and toxins from your colon using thermogenics. This means that it energizes your system to burn up the energy you consume (food) so that it can be used more efficiently by your body. It also supplies probiotics that help cleanse your colon of bad bacteria.
Like Align, it contains bifidobacterum in its natural state. It also contains acidophilus, papian, green tea extract. grape seed extract, mangosteen super food extract, and ginger root.
Its claim is that it does more than just use probiotics to develop healthy bacteria, it also cleanses your system with the other ingredients.
Approximate price: $80 for a month's supply
Available online only
Dosage 1 capsule a day
What you need to be aware though with Bromalite, is that there is an alarming number of online reviews that suggest that interested buyers should exercise caution in terms of the benefits promised by the manufacturer.
Kiwi Klenz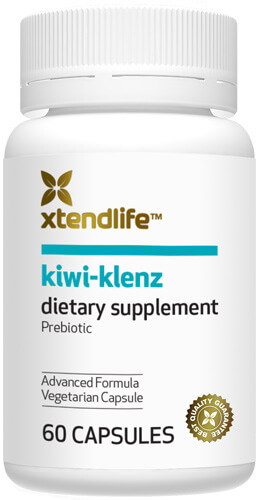 Kiwi Klenz digestive supplement has a broader approach than the other products mentioned here. New Zealand-based Xtend-Life's Kiwi Klenz identifies four critical components necessary for digestion — soluble fiber, enzymes, phenolics, and prebiotics.
Prebiotics are not probiotics. Prebiotics are nondigestible elements that stimulate the development of healthy microorganisms in your colon. Probiotics add to the healthy microorganisms. Prebiotics activate the microorganisms already present.
Phenolic is a natural bioactive are found in kiwifruit. They slow the growth of bad bacteria while promoting the growth of good bacteria.
Kiwi-based Kiwi-Klenz combines enzyme supplements, prebiotic supplements, and soluble fiber supplements.  The kiwi used in Kiwi-Klenz is not freeze-dried but made from the skin and seeds where the live enzymes and probiotic are. There is more soluble fiber in Kiwi-Klenz than in psyllium husk.
60 capsules approximately $35li
Available online
Dosage 1 capsule a day
Econugenics Integrative Digestive Formula
The health properties of the trademarked Integrative Digestive Formula do not rely on probiotics but on a blend of warming herbs, minerals, organic medicinal mushrooms, and essential enzymes.
The ingredients are taken from Eastern medicine and presents the concept that you have a digestive "fire" in your belly. If the fire diminishes, your system gets sluggish. The herbal and organic ingredients in the supplement light the fire again.
The actual ingredients include pomegranate seed, pepper fruit, lesser galangal root, cassia bark, Chinese cardamom fruit, tangerine fruit, henon bamboo herb, de-glycyrrhizinated licorice (dgl) root, ginger root, and sacred lotus seed extract.
60 capsules approximately $35
Available in stores and online
Dosage 1 capsule a day
Vita Logic Digestive Formula
Vita Logic's Digestive Formula claims it is a two-phase digestive supplement that acts like the two primary digestive phases, which are the stomach and the small intestine. In the stomach, the tablets release acids and the protein digesting enzymes pepsin, bromelain, and the proteolytic enzyme papain. These help the stomach do its digestive work.
In the small intestine, the tablet releases bicarbonate, pancreatic enzymes, and bile salts echoing what the gallbladder and pancreas do. These enzymes help all digestive activities in the small intestine.
The ingredients are potassium (as potassium bicarbonate), pancreatin, protease, amylase, lipase, trypsin, papain, bromelain, lysozyme, chymotrypsin, calcium carbonate, magnesium stearate, and potassium bicarbonate complex.
120 tablets approximately $30
Available in stores and online
Dosage 2 tablets before a meal
Summary
While the value of probiotics is generally accepted, a good yogurt with live culture can provide probiotics. This is not to diminish the value of the supplements that contain probiotics. It is just worth mentioning that a valuable digestive supplement calls for a more holistic approach than just containing probiotics.
Using herbs and other positive supplements can be very beneficial additions but soluble fiber intake, prebiotics, digestive enzymes, and healthy bacteria production are essential to a healthy intestine.
Comparing all of the above mentioned supplements, Kiwi-Klenz seems to offer the most complete array of benefits.
The prices mentioned are approximate and in most cases, they can be found on sale either online or in stores. Bromalite is the only one that calls for an ongoing membership where the product is shipped automatically every month.